When I started thinking about Elizabeth's room redesign, I first thought we could just
paint
and all would be fine, but alas... no.
The bedding was not going to work, and then it quickly became clear that the rug was not going to work. There was not a speck of blue in either and the contrast would be too obvious. Bummer. Bedding I knew I could replace for under $100 and then sell her old stuff. I achieved both of those goals so net net I only paid about $25 for Elizabeth's new blue bedding. I'll show you the new bedding in all its glory week, promise.

But, the rug was a bigger problem.
First, finding a rug with blue in it that is neither too gray or too teal/green was a more difficult prospect than I expected. I definitely wanted a pattern and I didn't want it to be too light (she is 6 after all). Given the chance, Elizabeth would have chosen a light blue shag rug but, as I said before, 6 year olds get to advise but not pick. I pick. I promised her it would be cozy like her current rug but not shag.
After a bit of trial and error, and several trips to HomeGoods (no luck there - what has happened to their selections anyway?!). I found one rug on Joss & Main but it arrived with large dirty footprints all over it. And it was too green, so that went back. Then I found the great trellis rugs on Overstock. They have a TON of varieties, but I liked this
one
...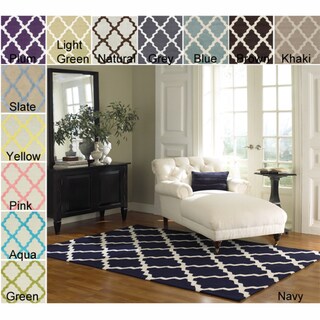 I had a 10% off coupon before Christmas so it came out to about $160. Really not bad considering the quality. I first thought I would pick the blue but then I started to wonder if I should go with something more neutral and settled on the slate. It has a tan background and the blue was less prominent so it wouldn't be an issue if it was slightly off from the other blues in the room.
It arrived and I fell in love. The blue is perfect with the walls and the background will not show any dirt. Woohoo!
If the pile wasn't so high on the trellis, I would order one in another color for the living room! The best part... doesn't shed. Elizabeth's old Pottery Barn Kids rug shed like CRAZY. There were tumbleweed wool balls rolling down my hallway for the first 6 months! Crazy annoying for someone who despises vacuuming (and thus only Roombas). But, it was in perfect condition so I was able to sell it for $125 on Craigslist. I swear, there is a resale premium on anything Pottery Barn! So, the new rug netted out at less than $50. Handy Hubby does not enjoy my redecorating math because it does not include the value of his time. Hah!
So, that's the new rug. Pretty, isn't it?